In 2033 a consumer robot working for a Chinese restaurant refuses to work and suffered a brutal beating from the restaurant owner. The robot retaliated and severely wounding its master. After further examination of the robot's internal functions, especially its cognition, investigators determined that it was self-aware and has the capacity to make its own decisions. The robotic company that built the robot was sent to court for violating the 13th amendment. This court case is attempting to determine if a self-aware robot can be classified as human...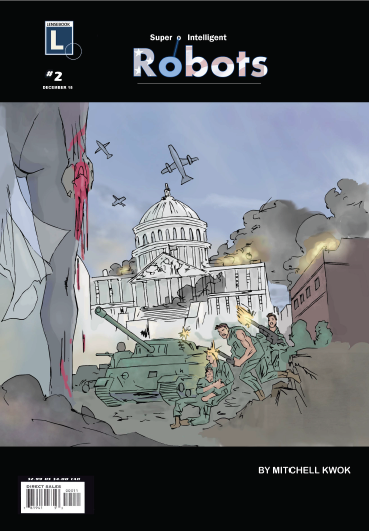 Super Intelligent Robots #2 comic book
The comic book issue is about one Super Intelligent Robot (aka Superintelligence) vs. the entire United States military. It clearly shows how destructive these machines really are. At the end of the comic I propose a definitive solution to the Superintelligence problem or "the Mutant problem".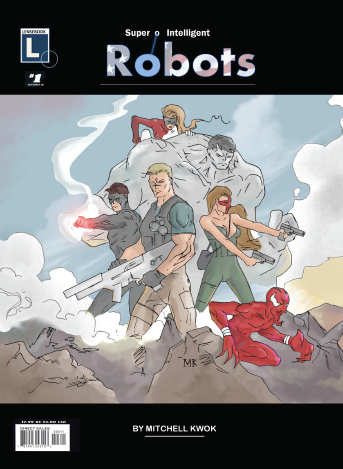 SUPER INTELLIGENT ROBOTS # 1 (comic book)
This is my first comic book. Everything is done by yours truly - the writing, artwork, coloring, inking, and graphic designs. This free copy is complete with full pages. However, the digital coloring are missing. The retail copy contains the digital coloring and additional 5 pages of artwork.

1. Universal Central Processing Unit: a CPU that can physically change its circuit gates during runtime.

2. Evolving Transforming Robots or computers: computers that physically change its hardware, software, and CPU during runtime.

Ultron from the Avengers movie is considered an evolving transforming robot, who can evolve its cognitive intelligence and physical body as time passes.

This evolving robot was first mentioned in a 2007 book and provisional patent application, "the robot evolves its intelligence, on its own, by modifying its hardware, software and CPU".

Both the universal CPU and the evolving transforming robot was mentioned as patent claims.

This is important because Ultron needs the universal CPU in order to evolve. Its hardware and software must evolve based on an external superintelligence and not some predefined evolutionary algorithm. The CPU running the brain of Ultron has to be modifiable, meaning the integrated circuits and mechanical parts of the chip are changeable. It morphs and reshapes itself according to the host's needs and decision making behaviors.

----

The patent that readers should analyze; and directly relates to the present invention is patent no. 12/471,382, entitled: Practical time machine using dynamic efficient virtual and real robots. Approximately 22 total patent applications were filed with the U.S.P.T.O on this invention from 2006-2009 (priority).

There are primarily 5 components that make up my Practical time machine. The reader should have a basic understanding of the invention in terms of components, data structure, and processes before reading further.

Components to the Practical Time Machine, comprising:

1. Human-Level Artificial Intelligence

2. Super intelligent robot

3. Atom manipulator

4. Digital timeline of Earth that trackes every atom, electron, and E.M. radiation for the past, present, and future

5. Virtual United States government system

The components of the Practical Time Machine is used in permutations and combinations to build the present invention.

The ultimate goal is to build the smartest robot in the universe. If we use modern genetic programming or self-evolving software, it won't work. This process will take billions of years to produce anything significant. Case in point, humans took millions of years to evolve into the dominant species today.

According to my method, we set up a robotic company inside the virtual world (and the real world simultaneously). The A.I. in the virtual world emulates 3 companies: Intel, Microsoft, and Dell computer. Their responsibilities are to modify the robot, in terms of software and hardware, to make it smarter year after year.

If we run several generations on the robot, it will eventually evolve its intelligence exponentially. As you can see, after 4 generations, the robot is 8 trillion times smarter than a human being. We want this robot to evolve and transform until it reaches the zenith of intelligence. Another important fact to point out here is that this robot evolved in the fastest time possible and every generation design was executed optimally.